Member Meeting 4/29/17
April 19, 2017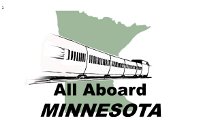 Spring 2017 Annual Membership Meeting - You are Invited!
The spring "all-member" meeting of All Aboard Minnesota will be held
on Saturday, April 29, and… YOU are invited!
We are fighting to save passenger rail in Minnesota! We need you! See below for details.
The meeting will be held at Christ the King Lutheran Church, located on 8600 Freemont Ave, South in Bloomington, MN.
Doors will open at 9:00am
The meeting will begin at 9:30am
Will conclude at 12:00noon. Go in the main entrance on the south side of the church, walk straight back and down the hall on the left to the lounge. There will be signs to direct you.
Refreshments will be provided in the morning, and at 12:00noon, we will provide a light lunch. For directions, please click on this
link: http://www.ctkb.org/contact-us/
We have an exciting agenda planned including:
The All Aboard Minnesota board has been busy on the state and federal level legislative front-we will give an update on what we know, what we have done, and what actions we plan to take

​We will share an interesting survey results about passenger rail in Minnesota

Working committees - we need your help - All Aboard Minnesota is forming member committees, learn how you can get involved according to your interest!
We will break into the following committees to organize and move our cause forward
(there will be opportunities to participate in numerous areas for those who might be interested). A board member will describe what we need for each committee and ask for your input as we form these:
Membership
Legislative
Communications
Outreach
Next Steps, Questions and Answers
Members are asked to RSVP in advance Reservations will be accepted up until
Thursday April 27. Please rsvp your reservation to AAMN at:
Email; [email protected]gmail.com;

Or please call 612-781-2894 and leave a message
We are excited to see you. Together, we can save passenger rail for Minnesota and the upper midwest!