Spring 2016 Membership Meeting - Saturday, May 21
April 28, 2016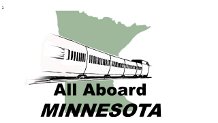 Spring 2016 Membership Meeting - You are Invited!
Spring membership meeting of All Aboard Minnesota will be held
on Saturday, May 21, and… YOU are invited!
The meeting will be held at Christ the King Lutheran Church, located on 8600 Freemont Ave, South in Bloomington, MN. Doors will be open at 10:00am. The meeting will begin at 10:30 am and will conclude at 12:00noon. Light refreshments will be provided in the morning.
For directions, please click on this
link: http://www.ctkb.org/contact-us/
This meeting is free and open to all members!
We have an exciting agenda planned:
Update on our meetings and our learnings from the 2016 MN legislative session
What is happening with rail passenger legislation
Update on the MnDot State Rail Passenger office
Meetings we've had around the region with Wisconsin Association of Railroad Passengers, Prorail, and others
How you can help our cause
There is no need to RSVP, but if you have questions in the meantime please contact us at:
[email protected];

We look forward to seeing you there!